On October  2018 PwC and Kharkiv IT Cluster presented the results of the extensive Kharkiv IT Industry research. More than 7,000 IT-specialists from 36 Kharkiv companies took part in it, including Fortifier IT company.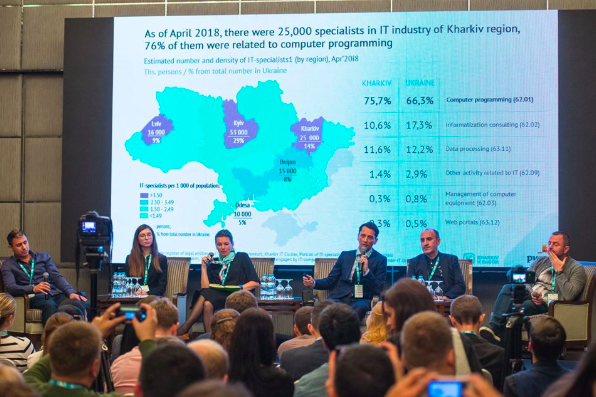 According to the results, there are about 25 thousand IT experts currently in Kharkiv, who work in 450 actively growing companies. It shows that Kharkiv is the second largest IT hub in Ukraine with $926 mln market capacity that may double and reach $1,85 billion by 2025.
Most of the players are export-oriented with 65 percent of sales in North America, 25 percent in Europe, and 10 percent in Asia, the Middle East, Australia & Oceania. There's no distinct industry specialization: Kharkiv companies cover a wide variety of technological domains without apparent leaders.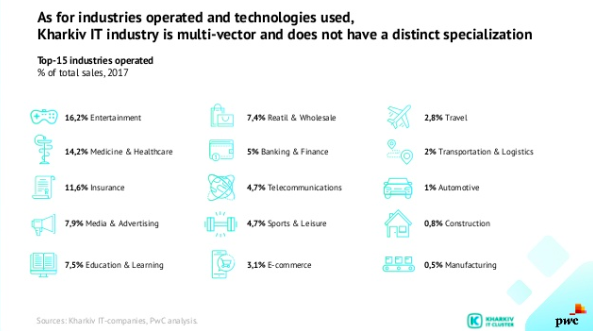 Kharkiv IT companies are specialized in a very broad range of technologies and industries and able to solve wide diapason of tasks, which is an advantage of the region.
The research team also assessed the business environment in the region. The key trends include the growth of financial, legal, and other service providers that target the IT industry, low-entry barriers to launching new IT businesses, active development of IT-community, establishment of long-term cooperation between educational institutions and major regional IT-companies, tech expertise improvement, and more.
Summing up the research, the experts remained optimistic in their forecasts for calling Kharkiv a large IT hub of the country, which will consistently increase the pace of development, attract more and more investments into the country, develop local and state economies, promote advanced skills of young specialists and form a positive image of the city as a reliable location for international cooperation.
About Kharkiv IT Cluster:
Kharkiv IT Cluster is a Kharkiv public organization that unites the leading IT companies, local authorities and higher education institutions to introduce complex changes to the IT ecosystem of the city since 2015. Today Kharkiv IT-cluster unites more than 40 successful companies in the region, which jointly implemented more than 20 educational projects, 30 social initiatives and conducted more than 50 specialized events for industry professionals.
About Fortifier IT company:
Our main focus is on Insurance industry digital transformation. The company develops IT solutions and implements Reliable approach in software engineering. Our portfolio includes variety of fulfilled enterprise solutions as well as projects for middle size companies and InsurTech startups. Natalia Vynogradska, CMO at Fortifier, held the post of Executive Director of Kharkiv IT Cluster in 2015-2017.