It's no secret that more and more business-related fields have been getting digitized over the past several years. This trend couldn't have possibly avoided the insurance industry as well—nowadays, more and more insurance agencies' owners implement custom software into their business processes.
Unfortunately, the cost of developing these solutions is quite high, especially in such countries as the US, Canada, the UK, Germany, etc. This is the reason why most companies opt for outsourcing to make their idea come true.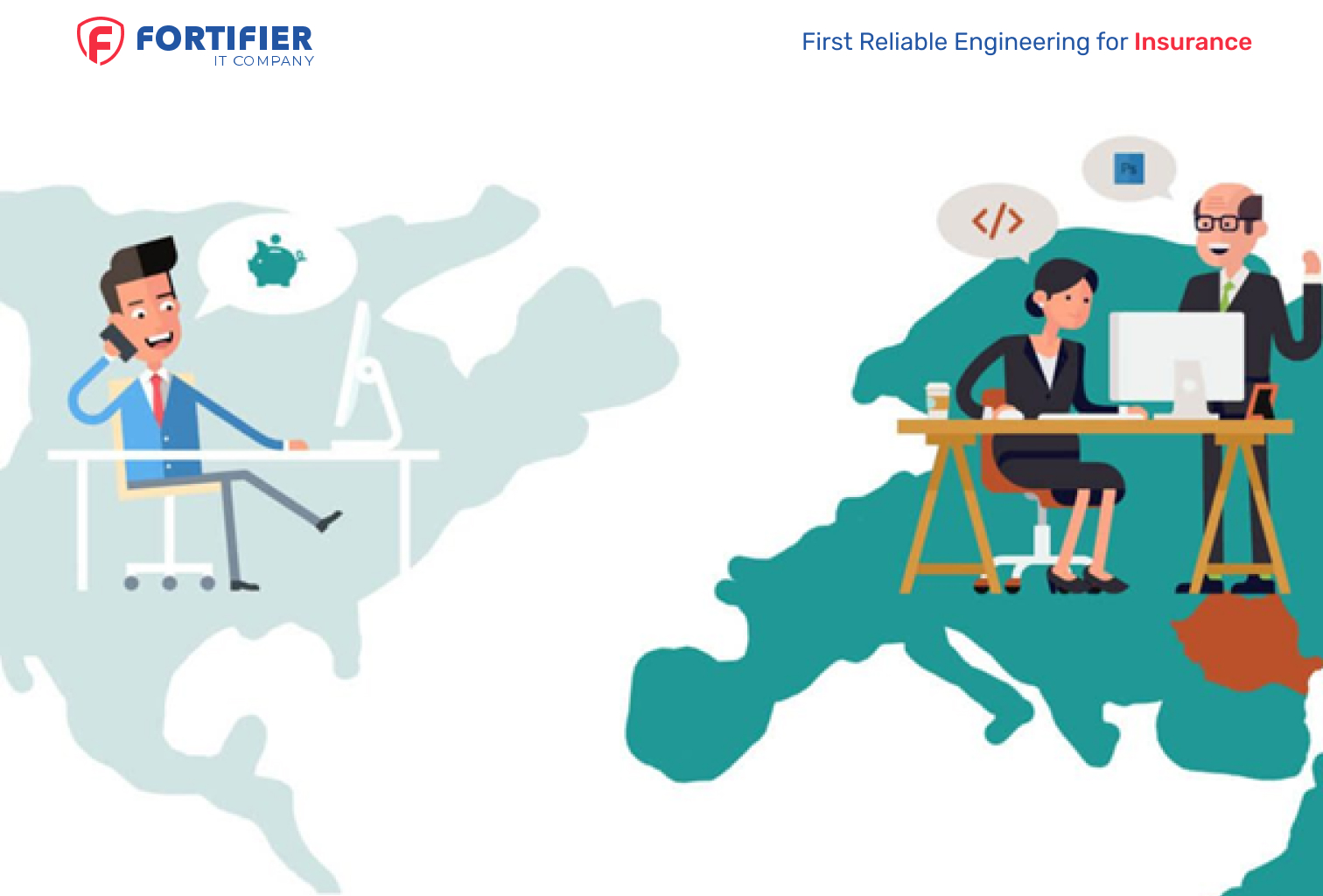 As for the main reasons why companies opt for outsourcing, the leader among them is an obvious one—reducing the development costs (59% of respondents stated this factor was the most important one).
For the InsurTech niche in particular and for startups dedicated to resolving "non-tech tasks" as a whole, outsourcing may be a single, sufficient business-development method, and a budget-saving one at that (not every average insurance agency has an employed team of developers on staff).
What tasks do outsourcing companies usually cover during the cooperation? Here are the most common fields:
developing mobile apps;
creating software for a connected devices ecosystem (for instance, solutions for door locks, fire or flood sensors, motion detectors, IP video, etc.);
building AI-driven solutions for managing and mitigating risks, improving the customer experience, and eliminating fraud;
developing Cloud-based SaaS solutions;
automating the FNOL process using machine learning and AI (e.g. chat-bots);
text and image recognition for optimizing the underwriting and claim processes;
creating dynamic prototypes, PoC, and MVP for InsurTech startups.
So, get comfortable—we are going to cover all the peculiarities, the obvious and not-so-much, that you need to take into account when looking for an outsourcing development partner.
6 Key Advantages of Opting for Outsourcing
First things first. Let's take a closer look at the main pros of outsourcing software development.
Cost Savings
The main reason behind turning to outsourcing is the desire to cut development costs. As for the country where you should look for developers, things are not that obvious here.
If you start doing your research on the development companies from different companies, you'll find out that the US and Western European countries are the most expensive ones, and the most affordable one is India. Below, you can find our comparison table showcasing how the hourly rates for development services vary depending on the country.
| Position | USA | Ukraine | India |
| --- | --- | --- | --- |
| Business Analyst | $133-233 | $45-70 | $35-48 |
| Project Manager | $110-205 | $40-63 | $30-42 |
| Software Architect | $198-292 | $55-77 | $35-48 |
| Lead Developer | $176-187 | $52-70 | $30-42 |
| Senior Developer | $154-163 | $48-70 | $30-42 |
| Mid-level Developer | $132-140 | $37-56 | $24-35 |
| Junior Developer | $105-111 | $27-42 | $18-24 |
Nevertheless, as practice has shown, the cheapest services are rarely guaranteed to result in the product of the highest quality. In fact, most clients who have made a deal with Indian developers point out their lack of responsibility and the necessary qualifications.
So, if you don't have enough patience and time to deal with such issues, we suggest you look for developers in Eastern Europe (Ukraine, for example) first and foremost. The hourly rates are relatively lower there, and developers use the best world-renowned software development practices in their work.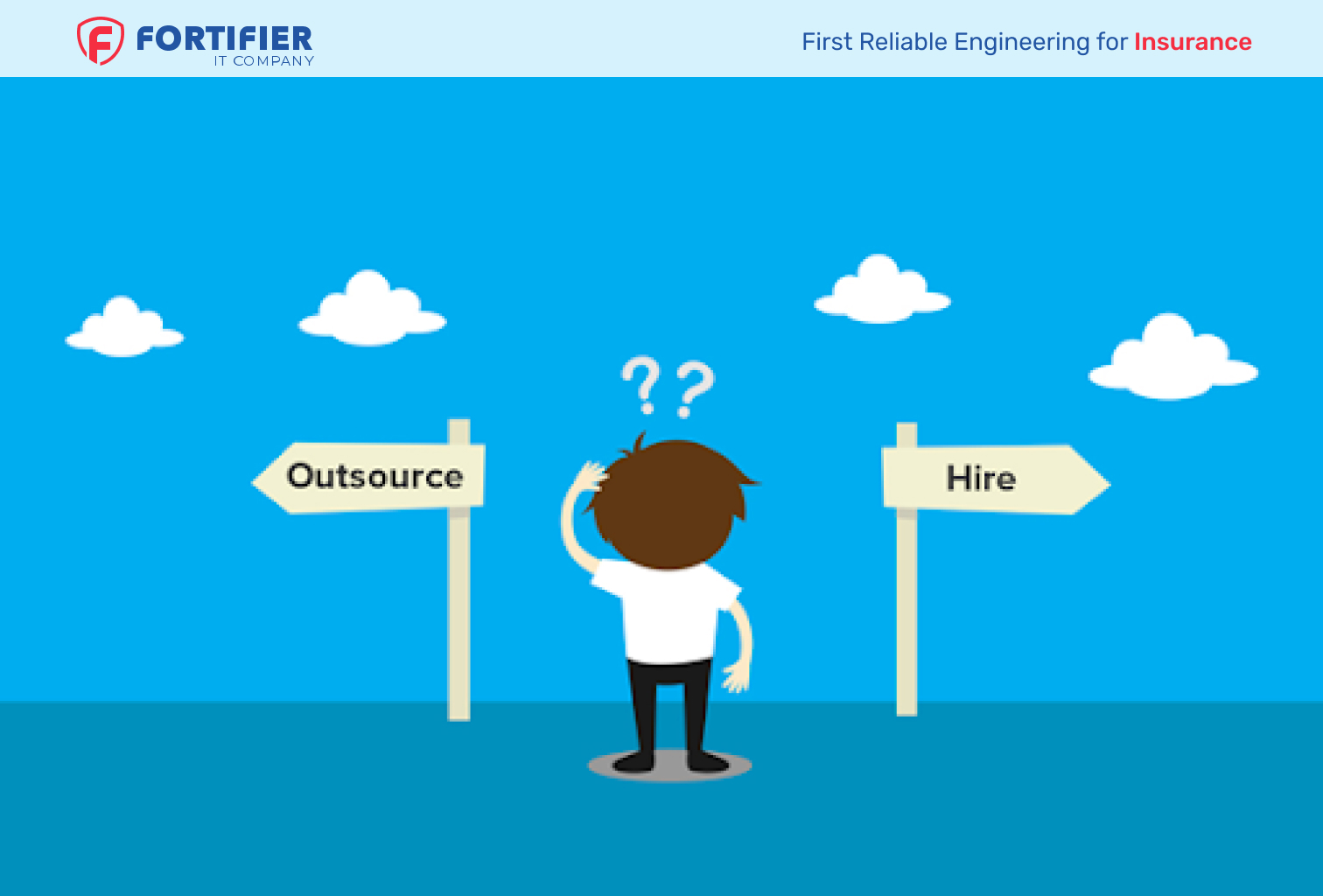 Staffing
Even if you have great IT specialists on your staff, they are unlikely to be able to deal with the additional workload in the form of software development tasks. This is one of the reasons why companies opt for outsourcing development—in order not to disrupt current working processes and avoid employing new staff members (which also implies additional costs for the recruitment process, taxes, and new working places).
Focus
One more advantage of outsourcing is that it's always more beneficial to work with companies specializing in a particular niche. For instance, Fortifier develops software for the insurance industry, so our clients don't just get a high-quality product from a technological point of view—they also get comprehensive support and guidance, as well as business analysis. By getting a high level of expertise in a certain niche, a client gets his/her business concept realized in the best possible way—properly meeting all the requirements and resolving primary client issues. These are the services that you won't receive from a company that deals with projects in countless fields.
Flexibility
If you turn to a development company, you won't have to disrupt your current business processes. You and your team can work in a usual rhythm. In turn, the development company will take full responsibility for controlling and managing the developers' work. All that you are required to do is give the company your list of requirements and wait until your product is finished.
Expertise
It could be the case that there are no specialists that would be able to deal with software development in your company. In such a case, outsourcing is the only possible solution to your problem.
Accountability
Finally, outsourcing is convenient. Companies that work in this niche have their working processes established and adjusted to be as efficient as possible. So, you'll be able to keep your hand on the pulse of the development progress—you will get daily reports from the project manager or business analyst and weekly reports from the development team on what's already done and what's going to be done.
On the other hand, if you employ the help of your own IT specialists and ask them to fulfill development tasks, chances are you won't be able to get any substantial information on the development progress. The reason is they are likely not to have enough time for reporting because of the increased workload.
6 Steps Towards Successful Software Development Outsourcing
Now, let us present you with a short list of key recommendations on how to ensure your outsourcing endeavor will be successful.

Don't look for the cheapest option (as you've already understood, low quotes are likely to be a sign of underqualified development staff);
Take a look at the portfolios of the companies you've chosen (and reach out to former clients to find out whether they were satisfied with the cooperation, if possible);
Set realistic deadlines and sound requirements (the respectful attitude towards someone else's labor is going to have a positive impact on the product's quality);
Look for the development partner among the companies that specialize in creating solutions for your particular niche (seek companies specializing in a particular niche instead of turning to the most advertised company that promises to complete any task for any line of business and any industry);
Pay attention to key performance indicators (how many years the company has been operating in the market, the number of developers on the team, the presence of other specialists needed for your project such as project managers, business analysts, QA experts, etc.);
Be patient (if you don't have recommendations from a person you trust, be prepared to spend at least several weeks on the search; the more options you consider, the higher the chances are that you'll find the partner offering you the best quality-price ratio).
Conclusion
Do you want to create a software solution from scratch for your insurance business or scale the product you're already using? In this case, you will definitely need a reliable team with extensive expertise in InsurTech, such as ourselves. We guarantee that you'll remain satisfied with cooperating with us!