Year after year, the Information Age makes the world smaller and smaller, which in turn gets logistics going into all business spheres globally. No matter what kind of business it is, logistics is bound to some, if not all, of its processes. Anything that needs to be brought from one point on the map to another involves some kind of logistics services. So, this economic sector flourishes steadily and imminently, including its tech aspects such as transportation app development.
Logistics covers shipping of wide array of goods worldwide and involves different aspects of cargo handling, from storage conditions of perishable goods to customs clearance. To comply with rapidly-changing customer needs, logistics—just as any other drastically growing area—desperately needs technological solutions. And here comes a mobile application to the rescue. Hereunder, we will give a short profile of logistics app development, the kinds of apps, and elements of comparative analysis of different approaches to the development process.
Facts and Statistics of the Transportation and Logistics Market
It is beyond argument that logistics and delivery companies face not only the necessity to provide fast and safe transportation or ensure customer-friendly service, but also to collect and process vast arrays of data. Tech solutions, predominantly logistics apps, have changed this area forever.
But in order to create a logistics mobile application that will be efficient, a close look at some facts and statistical data regarding the transportation and logistics market needs to be taken.
The global logistics market is segmented under multiple criteria including geography/region, end-user, or logistic type. Transportation, logistics, and end-user types are the key ones for
understanding the global logistics market.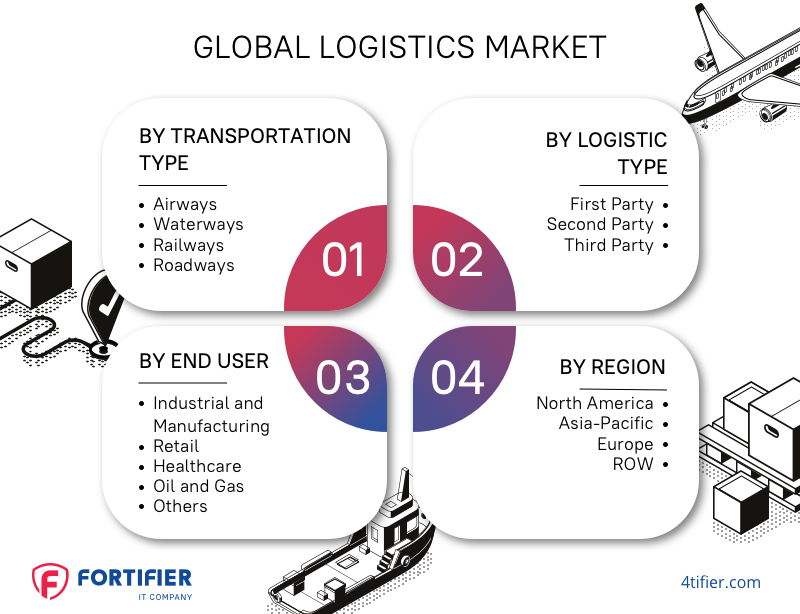 A report on the current status of affairs in the global logistics market states that its size is expected to reach a cost of over 350 billion USD by the year 2022.
The continuing tendency of urbanization leads to the fast growth of sales in e-commerce. This fact, in turn, pushes the developing economies of Mexico, India, and Asian countries to become prominent contributors to this growth. Experts consider that the market will see more than 7% of CAGR in the upcoming years by 2022.
Key stakeholders in the world transportation and logistics market are from either the USA or Europe: Germany – DHL International GmbH, the USA – C.H. Robinson Worldwide, Inc., Denmark – A.P. Moller – Maersk, to name a few.
The Most Popular Types of App Solutions for the Logistics Industry
To build a logistics mobile app is a real challenge, which has recently become a hot topic in terms of furtherance in the transportation and delivery business. As a rule, logistics app design includes, among other things, location tracking, navigation apps, apps for managing warehouse procedures, and the like. Let's have a closer look at the key logistics apps that have proved to be nifty.
On-Demand Logistics Apps. These apps are so much on-trend both in terms of logistics app development and with the public currently that both app developers and logistics companies do their best to turn it to their advantage. Use these apps in case you need to be in touch with your customers and deliver whatever they can possibly need on request, from flowers to medication. That's how apps like Medspace or UberEats work.
Warehouse Management Apps. Logistics is impossible without warehousing. Efficient management of this activity can be done via an app that stores and processes all the operative data 24/7, regardless of size or location. Usually, these logistics apps are available both on Android and iOS platforms. No matter what OS an app works on or whose project it is, one of its crucial features is comfortable logistics app UI. Bright examples of warehouse management apps with user-friendly interfaces are free Snappii Warehouse Inventory and Shipment App, Scandit Flow, Rapid Inventory, and more.
Tracking Applications. Logistics mobile application development allows an enterprise to track the whereabouts of cargo and vehicles all the way to the place of destination. Major apps make it possible to send customers notifications about the current status and location of their cargo. Customers can use Trackr app to control locations of their packages; the logistics app UI is rather friendly there.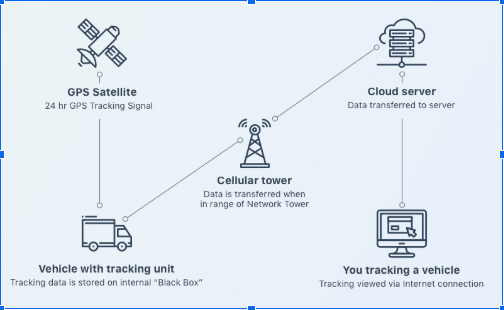 Logistics tracking app development involves simultaneous usage of several advanced technologies
Fleet Management Apps. An owner of any logistics company can increase the operational efficiency, if control over vehicles and drivers is available 24/7. It considerably simplifies the decision-making and scheduling processes at every stage. Moreover, logistics tracking app development allows watching traffic online. All human beings have feelings, so if your employees know you are watching them work in real-time, their productivity will imminently increase. Pitram, GPS Wox, and Traccar are some bright examples of these logistics apps.
Appointment Scheduling Apps. Nowadays, multitasking is a highly demanded skill, but the still to manage several projects simultaneously is quite a challenge. Mobile apps to the rescue here – you can have all your workflow in your smartphone. These apps considerably simplify task distribution between executives, balancing the workload or viewing several projects at once (it actually helps when you have some competing deadlines). That's where Gigabook, Setmore, or Acuity Scheduling come in handy.
Navigation Apps. When your customer desperately needs his/her cargo or package to be delivered as soon as you possibly can, it is Murphy's law that your vehicle will hit all of the road closures and traffic jams. Logistics app development is aimed to help you avoid these issues and provide your customer with the proper service. Citymapper, Waze, or MapQuest will help you out here.
Benefits of Logistics Apps for Your Business
Since the success of any logistics business lies in non-stop cooperation of various structural divisions there is an array of needs which can be satisfied only through the usage of logistics apps. They have actually proved to be quite a game changer in terms of process optimization under either the LEAN or 6Sigma approach.
Vast implementation possibilities. Logistics application development products can be used in warehousing, routing, any kind of transport or inventory management, goods monitoring, control of employees, etc.
Cutting back on paperwork. Proper logistics app design makes it possible to store and process vast amounts of business data with no compromising on security. Quick updating of information helps in fast and efficient decision making, which, in turn, boosts customer satisfaction.
Decrease in the human error factor. The less automated your routine business processes are, the more mistakes due to the human factor you are likely to face. Logistics mobile app development does what no human being can achieve – stays focused 24/7 with a minimal chance of making any mistakes due to fatigue.
Reduction in expenditures. Automation of workflow through logistics application development takes a certain amount of time, effort, and funds at the preliminary stages, but is very cost-efficient in the mid-term perspective.
Increase in service quality. Logistics tracking app development gives all the tools to make a name for your business online so you don't have to stick to any particular location. If your logistics app ui is intuitive yet efficient, your business immediately becomes result- and customer-oriented.
Features of Mobile Applications for Logistics
Customer panel. Here, we start with a simple and clear registration procedure, preferentially via social media or email. Next, a user can proceed to the listing of the available vehicles and make an informed choice about the best option. If the date and time are known, a customer can book the vehicle needed for the desired period.
Users get regular notifications at every stage of cooperation; some of those notifications include offering some extra services in order to provide a customer with the best service possible. In terms of payment, the logistics app UI gives the opportunity to pay online via a payment gateway. After that, consignment is tracked in real time until delivery. Having received the goods, a user estimates the service and shares his/her experience in a review.
Driver panel. This part of an app is aimed at assisting drivers to make their activity as productive as possible. It starts with registration, which is available via social media methods and email accounts. When a driver gets a request, it is his/her responsibility to manage it until complete execution. All the necessary information—including the shipper's and user's contacts—is provided to the driver. Selecting the most suitable route is up to the driver; the logistics mobile app development enables it via GPS.
Admin panel. It is considered to be the pillar of a logistics app as any company uses it to gain full control over the transportation process. This panel has such key aspects as a dashboard, where one can have access to any information concerning both drivers and users; driver supervision to help admin manage orders; notification mail-out regarding any stage of service; management of all the bills and invoices; tracking not only routes of vehicles but also their fuel consumption.
Extra features. If your business grows across the country's borders, you can take advantage of multi-language support given by logistics app design. Analytics makes all your business activities measurable, therefore you are going to know your room for improvement. The chat option helps you stay connected with both drivers and customers online, which is rather helpful in case of force majeure circumstances. Using the driver safety option, you have information about speeding, phone usage and the like, which consequently will help you choose drivers you are okay with.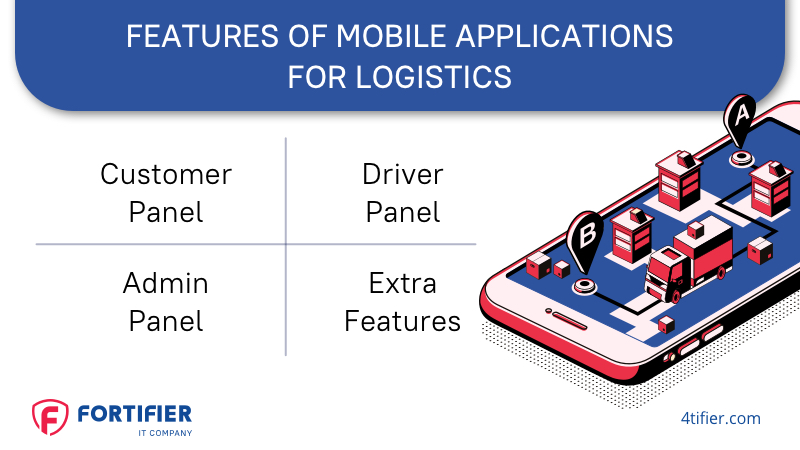 How to Develop a Mobile Logistics App?
Logistics mobile application development has a clear structure. The process itself is separated into two major stages, which are front-end and back-end development.
The burden of creating an attractive, user-friendly intuitive interface of your app is on front-end developers. So, you should choose them with all due diligence. Let's take a closer look at this dream team, which knows how to create a product your customers will love.
The key players here are:
Project Manager, who must both know logistics inside and out and how to create a transportation app;
developers will convert your data into the interface to work with;
designer, if skillful enough, can create a logistics app UI, which will work efficiently for years and years;
testers will make your app free of errors and spotless in all senses.
You should take into consideration the fact that it's a designer who makes or breaks it. His work is judged not only by the client but by users of an app, hence no room for error in his work, just the same with your choice. Customer satisfaction and loyalty to your business rise drastically if an app is designed by someone who keeps eyes on the ball.
Back-end development is what makes the web go round. A regular user of any logistics app will never see a huge part of the application, which is created by the shadow behind the scenes in software design – a modest yet powerful back-end developer.
While a front-end developer creates the buttons, backgrounds, and other aspects of UI, a back-end developer writes a code to set it all in motion. The code makes the app refer to the proper database to get the required information and bring it back to the location in the app where it will be displayed.
Back-end development predominantly uses SQL and databases. In terms of programming languages, the main focus is on server-side languages like PHP web frameworks, Ruby on Rails, ASP.NET MVC.
Development of various features requires using certain platforms. It seems that Google and Azure are the best options for a Cloud environment. Paypal is one of the most universal payment gateways. Mail Chimp Integration or Hbase can be a reasonable choice of databases.
How About Money or How Much Does it Cost?
When it comes to keeping up-to-date within a fast-growing environment like the transportation industry, an enterprise may find it reasonable to invest in logistics mobile app development in order to stay on the cutting edge.
There are a lot of factors that influence the cost. Depending on the complexity of the logistics app design, not only do the number of required working hours vary, but also the hourly rate of a developer. American and European specialists may cost you a piece of change with prices starting from $80-$200 an hour. If you are lucky enough to find some very enthusiastic start-ups eager to build a reputation, there's a chance to save a few dollars.
Developers from Eastern Europe are a bit more available in terms of prices; the hourly rate starts somewhere between $35-$50.
But software development is not where all your troubles, i.e. expenses, go far away. Application marketing is not included in the price, so save some money for initial promotion as well as for updating your logistics app and probable legal issues.
Conclusion
If your aim is to build a brand-new successful business in transportation and logistics or to breathe new life into such businesses in stagnation, you do not seem to have any other options but to bring your A-game.
The future of this industry lies with mobile applications. It's favorable for both business and customers as apps really make a difference in terms of cost cuts, helping being competitive in the market of transportation and logistics, providing the best service, controlling and efficiently managing processes, saving time and effort by reducing paperwork.
The use of technology in logistics has solved a lot of issues at multiple levels via making it possible to manage every little detail of your business without spending enormous time and effort.
If you are in logistics, sooner or later you will conduct affairs globally having your footprint across the borders. So, it is high time to invest in logistics application development, which can be perfectly tailored for your needs.