A modern business – especially insurance sales – must meet a multitude of increasing requests from the growing Generation Y. In the current marketing and investment climate, the automatic collecting and processing of data are crucial. Today's best instrument for these tasks is a modern CRM for insurance agents. Their main advantages lie in the ability to facilitate the work of agents, handle huge amounts of data, find more potential buyers, and more effectively convert them into customers.
Five years ago, the profitability of a CRM in insurance sector reached $8.71 for every dollar invested. Today, according to the results of case studies, CRM, in this specific industry, pays off more than 10 times, and a good CRM for insurance brokers can become "the golden key" that will distinguish you from the competition.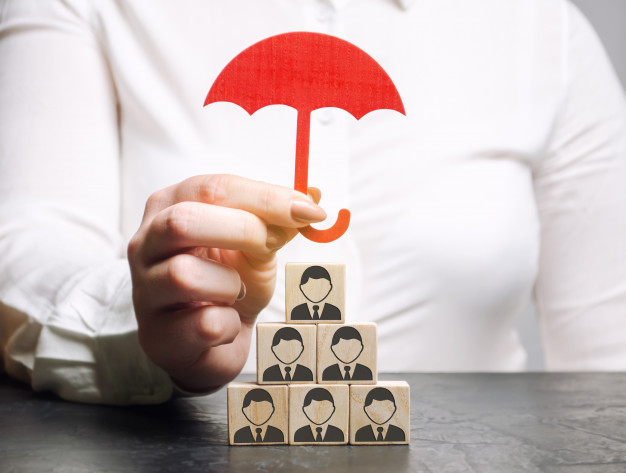 The Role of CRM in the Insurance Sector
A Customer Relationship Management System (CRM) is a software program that can simplify and improve the conducting of business in various fields. A CRM for insurance agents also involves the processing of large amounts of information, small calculations, tight customer interaction, and other manipulations that machines can deal with much faster and more accurately than a human.
Most examples of CRM software for insurance companies are created according to the specific needs of the industry. Most of the tools in this aspect efficiently cope with:
database organization;
completing questionnaires;
lead management;
policy management;
automatic reporting;
working with emails and mass mailing;
call management;
calculating commission for underwriters;
web conferencing.
The best CRM software for insurance agents is created to minimize the routine burden on the agent and for the opportunity to engage more in creative tasks.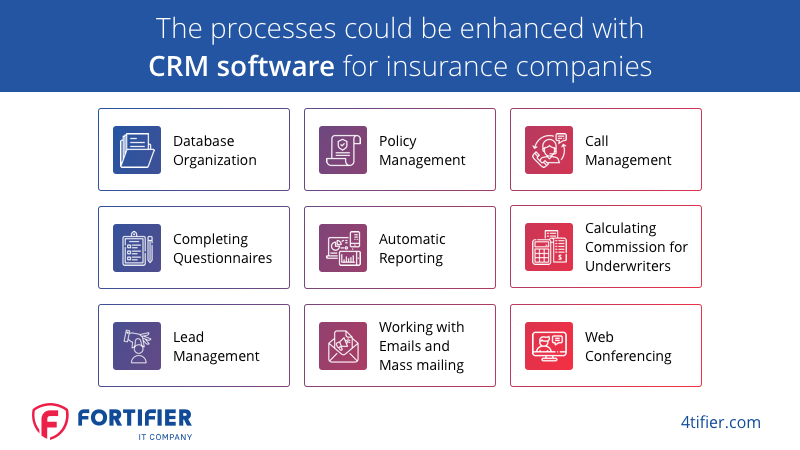 Top Features of a CRM for Insurance Agents
There are both ready-made CRM-solutions and specially-designed software for specific insurance companies. Both types can have several standard functions that allow calling them the best CRM software for insurance agents.
Useful features of CRM for brokers:
Working with databases. Ordered databases of contacts, orders, transactions, previous interactions greatly simplify customer relationship management in the insurance sector and save time spent on office work.
Registration of reports. A CRM can take on the routine duty of preparing reports with minimal agent participation and risk of error.
Working with emails. The modular add-on for the specialized CRM systems takes on the assignment of tasks, reporting, and analysis of actions related to correspondence. The module also allows for a mass or address mailing.
Social network analysis. This is a CRM software function that calculates orders, reviews, likes, shares, and other activity on the companies' pages on social networks.
Gadget integration. This module enables insurance brokers to use CRM functionality on smartphones or tablets.
Calendar. Tasks and notifications in the calendar are a handy CRM feature for agents. The system informs you about upcoming meetings, events, and essential tasks.
Lead disposition. The best CRM software for insurance agents can mark clients in the database depending on their actions. The marking can start from "New Customer" to "Ready to Buy".
Policy management. Allows agents to manage client policies straight in the app, receive automated notifications on policy renewal dates, as well as employ cross-sell and up-sell capabilities.
Dialing a number. This function of CRM software for insurance companies allows calling the client directly from the application and saves a broker's time.
Commission calculator. This is the favorite module of the brokers. It takes on the task of calculating the commission—an essential module for independent insurance agents. CRM software displays the received and upcoming payments from insurance companies and helps agents with calculating and arranging taxes.
Workflow. This is a new insurance CRM systems feature that works on a "set it and forget it" principle. You can configure the software to send welcome letters or questionnaires to all new customers for regular reminders or other tasks.
Outlook and Google synchronization. Viewing, organizing, and sending letters without constantly visiting the email inbox is a useful and time-saving CRM feature for insurance brokers.
Integration of conferences. The most modern tool from the best CRM software for insurance agents can organize an online meeting right from the app.
The dashboard. makes using all functions of a CRM for the insurance industry as quickly and comfortably as possible.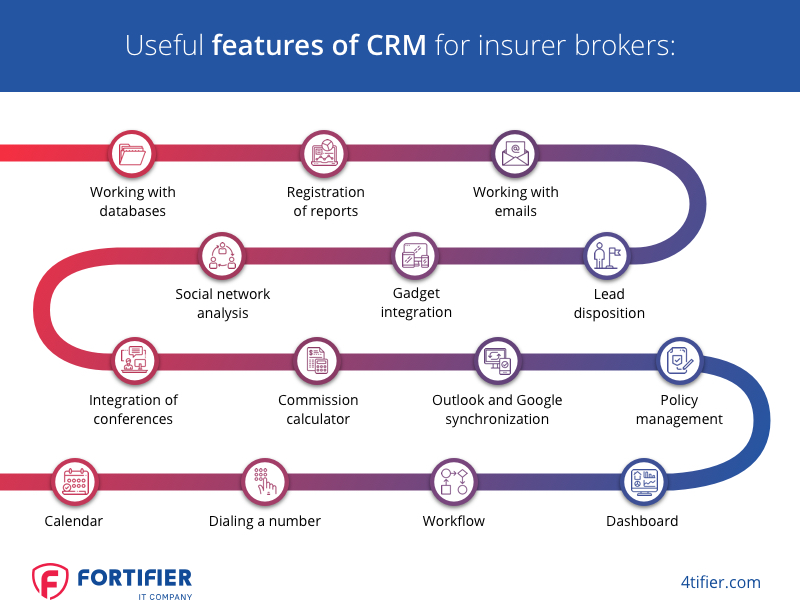 Top 10 CRMs for Insurance Companies
Many CRM systems can be effectively used in the discussed industry. However, we have picked 10 examples of the best CRM software for insurance agents. According to the number of positive reviews by operating insurance agents, these CRMs deserve a closer look.
#1 Zoho
A relatively inexpensive (and entirely free in the initial configuration) CRM for insurance agents, Zoho has a set of essential functions and several unique advantages.
Pricing
As it has a free version, CRM Zoho is actively used by new players in the insurance sector. The basic configuration is designed for only three users, so this CRM software is suitable for small insurance companies and startups. The system can track activity and the connections to social networks, can register phone calls and analyzes up to 5,000 web page visitors per month.
"The Standard" costs $12 monthly per user. In this version of the CRM, insurance brokers can create hundreds of reports and up to ten custom fields. Integration with Twitter, Facebook, and Google+ is also possible, as is the possibility of mass mailing. The CRM also allows insurance agents to predict insurance sales.
"Zoho professional" is a top of the range CRM for the insurance industry with a $20 monthly price per user. This plan has an increased number of custom fields – up to 150 – and integrates a SalesSignals system for counting potential clients. The CRM for insurance brokers takes the information about potential customers directly from social networks.
Top features of Zoho crm in the insurance sector
contact management;
email tracking;
automatic dialing;
integration with social networks;
task management;
web-to-lead capture;
opportunity management;
custom fields;
customizable dashboards and reports;
order management;
SalesSignals.
What Zoho is missing
According to insurance agents' reviews, this CRM lacks the function of processing renewals, approvals, and claims. Improving their technical support would also make Zoho CRM software for insurance companies much better.
User opinions about Zoho
In general, Zoho is rated positively, especially by independent insurance agents. The availability of a free version is a big plus. Zoho also makes converting data from other systems more manageable.
How to buy/download
You can download the free version, purchase the "Standard" or "Professional" plans at zoho.com.
#2 Insure.io
Insure.io is the best CRM software for insurance agents who work in the field of life insurance. The system was created specifically for this industry. It's fast, convenient, and easy to use.
Pricing
The price of using Insure.io is $25-50 per month. However, this CRM for the insurance industry has a free trial for 30 days.
An advanced version of the Insure.io CRM for insurance agents is "Agency Management." It includes a set of agents templates, hierarchy management, automatic routing.
The "Marketing and Agency Management" package is the most functional one. As a separate marketing tool it enables the creation of targeted, personalized agents pages. Such package of CRM software for insurance companies from Insure.io costs $75 per month for one user.
Top features
e-Application / Drop-ticket;
electronic signature;
unlimited quoting;
Click-to-Call and text messages;
social network integration;
individual analytics;
making a report;
routing;
Team View;
dashboard;
staff recruitment;
bulk e-mail.
What Insure.io is missing
Insure.io has a narrow scope. The product won't work for health or property coverage. For those insurance brokers, however, who are involved in life insurance, this CRM may be the best.
User opinions about Insure.io
The narrow focus of this CRM for insurance industry explains the small number of reviews. DataRaptor, however, reached the finals of The Life Insurance Association Innovation award in 2017 for a significant breakthrough in the industry—and this says a lot.
How to buy/download
A monthly trial version of Insure.io can be downloaded from the company's website insureio.com.
#3 Radiusbob
The software combines the functions of a CRM for insurance companies with solutions for VoIP and call centers. It has the essential functions of call by number and an automatic preview of numbers. It integrates with HealthPlanOne, Benepath, Ninja, and Quoter. Health and life insurance brokers use this CRM widely.
Pricing
Radiusbob has a multi-level pricing system, depending on the number of users, local numbers, incoming and outgoing minutes. In general, the cost of pure insurance CRM systems, without VoIP, ranges from $34 to $292 per month; the version with VoIP costs $78-732 per month.
Top features
lead management and document processing;
commissions tracking;
communication center and automatic dialing;
mass mailing from the app;
sophisticated integration with applications.
What Radiusbob is missing
Radiusbob doesn't have an electronic signature or one-page application. This CRM may also be inconvenient for some of insurance brokers due to the lack of integration with the GetAccept signature system.
User opinions about Radiusbob
According to reviews, Radiusbob is an excellent tool for predictive marketing. The support service of this CRM for insurance agents is, however, rather slow.
How to buy/download
Radiusbob is a Cloud-based CRM in the insurance sector. There is an opportunity to try the risk-free trial version of the software for 15 days on radiusbob.com.
#4 VanillaSoft
This CRM for insurance brokers was created to maximize the automation of services. VanillaSoft is based on a unique queue-based technology capable of automatically focusing agent actions. This CRM is the right solution for insurance industry representatives with a stabilized sales process.
Pricing
VanillaSoft has a simple pricing policy: this CRM software for insurance companies costs $80 per user. For an additional fee, you can also order some useful features.
Top features
Scripting is a unique logical branching scenario present only in this CRM. It helps agents navigate the conversation with the client, predict potential responses and objections of the buyer.
a progressive auto dealer system.
sales tracking. With the dashboard of call activity, operators can use this CRM to track insurance brokers.
the automation of working processes.
an auto-dialing system – $30 per month.
tracking and recording calls – $30 per month.
VoIP – $33 monthly with the ability to call any number in the US and Canada.
SmartCaller ID – local telephone identification, $2 per area code.
What VanillaSoft is missing
VanillaSoft cannot work with documents, unlike most examples of CRM in insurance sector. But it's suitable for call centers and companies that focus on working with customers through dialing, helpdesk, and call handling.
User opinions about VanillaSoft
The software has excellent technical support and a unique, logical branching system.
How to buy/download
VanillaSoft is a Cloud service and you can start using it immediately after registering on the site. This unique CRM has also a free version – you can use it up to 30 days or up to 2000 calls.
#5 Freshsales
This is the best free CRM software for insurance agents. Neither time nor the number of clients does not limit the free version. The full range of functions includes convenient contact management, tracking of potential customers, and transactions.
Pricing
Freshsales has four tariff plans. The free Sprout plan provides only essential functions for the CRM systems. The Blossom plan ($12 per month) enables mass mailing, tracking mail, registering calls directly in the program. The Garden plan ($25 per month) automates customer processes. The Estate plan costs $49 per month and provides access to information panels, expanded contact functions, and a potential customer evaluation system.
Top features
contact management;
lead account;
Web-to-Lead capture;
sales tracking;
auto dialing;
task management;
email tracking;
routing;
customizable toolbars;
drawing up reports;
individual sales.
What Freshsales is missing
The Freshsales CRM lacks a system of invoices useful for insurance brokers. The quality of standard reports could also be better.
User opinions about Freshsales
This CRM is straightforward in configuration and can display the entire sales process in graphic format.
How to buy/download
Download the free version at freshworks.com.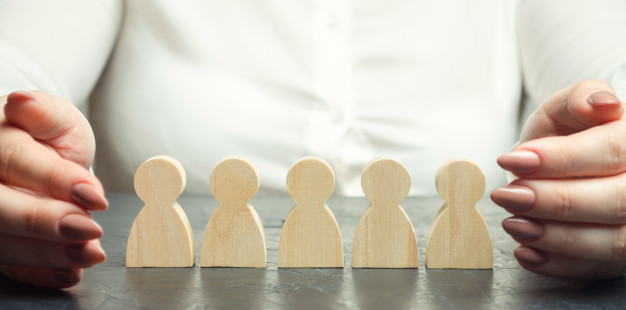 #6 Bitrix24
It's a multifunctional system that can be used as a CRM for insurance industry. It manages contacts and records, makes calls without VoIP-equipment, has flexible and reliable telephone functions.
Pricing
Bitrix24 is free for 12 users. A package for any number of users costs $199 a month. The companies can buy this CRM software permanently for $1,490 (12 users), $2,990 (50-500 users) or $24,990 (unlimited users).
Top features
sales automation;
promotional newsletter;
task management;
time tracking;
integration of social networks;
auto calling;
call quality assessment;
duplicate bills;
work reports;
meetings and briefings.
What Bitrix24 is missing
Bitrix24 is a universal CRM not specifically intended for insurance brokers. The system cannot synchronize with special programs.
User opinions about Bitrix24
Bitrix24 is well suited for working with social networks, calls, chat rooms, and email. This CRM, however, is rather slow and has many features that are unnecessary for insurance agents. One of its advantages is good customer support.
How to buy/download
To use Bitrix24, register at bitrix24.ua.
#7 Radius
Radius is a CRM for insurance brokers and small agencies. The software effectively manages customer information, tracks commissions, provides customer access to documentation, and manages calls.
Pricing
The initial version of Radius costs $24 per month.
Top features
email marketing management;
sales automation;
file storage;
multi-agent management tools;
commission tracking;
integration with Google Apps, Compulife.
What Radius is missing
One of the cons of this CRM is the lack of mass mailing.
User opinions about Radius
Users note the simple and intuitive interface, the ability to customize the program for specific tasks, a friendly support service.
How to buy/download
You can buy the Radius starter pack on the official site.
#8 NexJ
NexJ Systems manufactures the best software for healthcare, and it's no wonder that they have released an advanced CRM for health insurance agents. The system is equipped with a set of tools for client profiling and managing campaigns. It also can be used for business intelligence. CRM adapts to various areas of the commercial and accident insurance industry.
Top features
group calendar and task management;
policies, claims, and billing models;
leads and opportunity management;
Microsoft Exchange sync.
How to buy/download
You can purchase this system on the website: nexj.com.
#9 AGENCYBLOC
AgencyBlog is used primarily in the health and life assurance sectors. The software has a convenient toolbar that allows receiving data about various contacts, creating reports, and accessing shared working tools.
Pricing
The simplest version of AgencyBlog has a full range of features and costs $59 per month. The provider also grants seven days of free software use.
Top features
agent controls for administrators;
tracking operator contacts;
commission tracking;
monitoring unique customer life cycles.
How to buy/download
Download this CRM at agencybloc.com. To start the free trial, you must fill in the form.
#10 CLARITYSOFT
Although ClaritySoft wasn't originally designed as a CRM in the insurance sector, it is the best CRM software for the agents that quickly adapted to the needs of the sphere. It manages contacts, accounts, tasks, calendars.
Pricing
The initial version of the CRM costs $39 per month per user.
Top features
access on mobile devices at any time;
email marketing management;
integration with Microsoft Outlook;
customizable reports and dashboards.
How to buy/download
Just register on the company's website: claritycrm.com.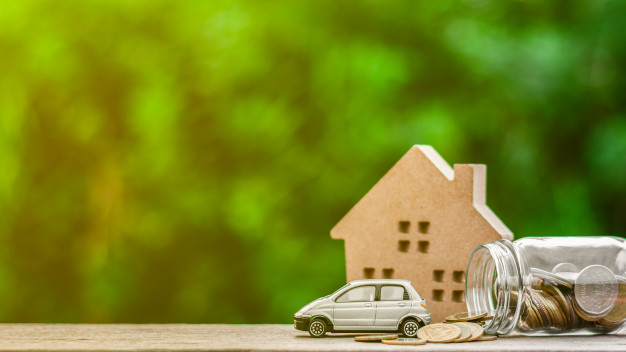 Insurance CRM Software Solutions with Fortifier
CRM in insurance sector is a specific product, and it often requires more than simple universal settings. Ready-made CRM software for the companies is also not always able to satisfy all the requirements of the industry.
Fortifier IT has been developing specialized software for this specific industry for many years. Our company has successfully helped corporations and agents to implement the best CRM software and integrated the business into a digital environment. Throughout our projects, we work with such software building technologies as:
Ionic
HTML5
AngularJS
Gulp
Python
Django
REST
Celery
PostgreSQL
RabbitMQ, etc.
Fortifier IT developers are certified members of the First Reliable Software Institute, and the company operates according to generally recognized standards: EEE 982, IEEE 1091, and ISO/IEC 9126. A CRM for the insurance industry from Fortifier IT fully meets the criteria of reliability, protection, and security – the basic principles of your business in the field.
Conclusion
The share of rejections from CRM software for insurance companies is extremely high – from 18 to 68%. So, it is necessary to conduct a comprehensive analysis and make a choice of suppliers based on your strategy and specific area of activity: life, real estate, medicare insurance. Examples of CRM in this sector can vary radically in the range of functions, price, and scope.
It is also better to determine the functionality that makes the CRM useful for your in-house agents accurately. For large companies or specific tasks, it is more expedient and cheaper to order the development of a new CRM for insurance agents and for their sales than to restructure the settings of standard versions.